Depot Covered Bridge
Pittsford, VT
WGN Number: 45-11-06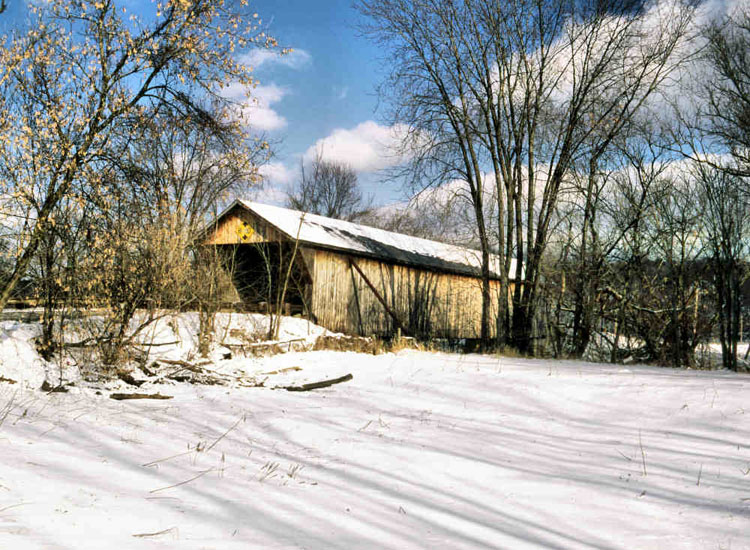 The Depot Bridge used to be an important connection between industrial Pittsford and the busy Florence Station. It spans the serpentine Otter Creek amid cornfields.
The Covered Spans of Yesteryear website provides some additional historical background information: "This bridge was named for the former Pittsford Railroad Station up the road from the bridge, which, interestingly, was not built until sometime after the bridge was constructed. Lateral stabilization is provided by a railroad rail at both portals on the upstream side which were added by Samuel Carrara, of Pittsford, Vermont, when he renovated the bridge and abutments in 1974. In early 1985 steel I-beam stringers and poured concrete caps were added. The bridge was closed to motor traffic June 21, 2005 after an oversized truck became stuck in the bridge causing severe structural and roof damage. Repairs were made to the bridge, including installation of a new slate roof, and it was reopened on December 21, 2005. One of four Vermont covered bridges that still has a slate roof."
Here is an article from the VCBS archives detailing the 2005 truck encounter: Depot Bridge Swallows Dump Truck.
Our thanks to the Town of Pittsford for allowing the posting of the Vermont Covered Bridge Society Welcome patch. For more information about the Pittsford area visit their website at http://pittsfordvermont.com.
Depot Covered Bridge Vital Statistics
| | |
| --- | --- |
| Town: | Pittsford |
| Location: | Depot Hill Road |
| Crossing: | Otter Creek |
| Date: | 1840(?) / 1853(?) |
| Builder: | Abraham Owen |
| Truss Type: | Town lattice |
| Truss Length: | 121 feet |