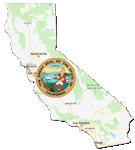 Eden, Vermont resident Lynn Davidson returned recently from a visit to California thrilled to have found a Vermont-style covered bridge there.
The story of the covered bridge began with Vermonter Henry Washburn who bought Mariposa County's Wawona Hotel in 1875. That same year, interested in attracting people and business to the area, Washburn joined two Mariposa businessmen to build the six-mile South Fork and Turnpike Road to the Mariposa Grove of Giant Sequoias.
Also in 1875, Washburn put a roof and sides on a wooden bridge, built originally in 1857 by pioneer Galen Clark, as a reminder of his Vermont home.
The Wawona Bridge (WG# 05-22-01), located in the Yosemite National Park, is the national park system's only covered bridge. The World Guide To Covered Bridges lists it as a 130-foot queenposter dated 1875 spanning the South Fork of the Merced River, serving as an entrance to the park. Photo by Robert C. Davidson. [130 feet is a tad long for a queenpost truss. Would a knowledgeable reader please enlarge on this description? Editor.]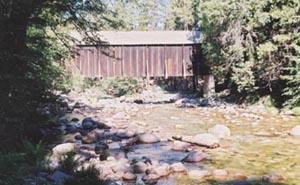 The Wawona Bridge (WGN 05-22-01)
Located in the Yosemite National Park
Photo by Lynn Davidson