North Bennington, Vt., June 5 - Dick Wilson, President of the New York State Covered Bridge Society reports that the portal of the new Paper Mill Bridge in Bennington Vt. has already been hit by an oversize truck.
"I was there last week," wrote Wilson. "Damage is not too great, but the portal trim is splintered."
The newly reconstructed bridge had been opened to traffic July 13, 2000, one month short of a year go.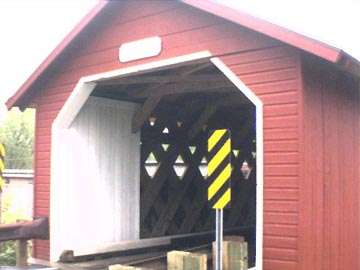 Paper Mill Bridge Damage
Photo by Dick Wilson
June 5, 2001