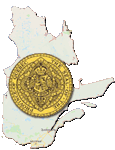 Gould, Quebec, Nov. 24, 2003 - The Town of Lingwick will accept a $54,000 subsidy from the Quebec Ministry of Culture to augment its own $150,000 fund to begin restoration work on the Gould covered bridge [WGN 61-18-08].
The work, planned to take four years, will begin with the central pier of the two-span bridge.
Also known as the McVetty-McKerry bridge, and the Fisher Hill bridge, it spans the Riviere au Saumon. The 206-foot structure was built in 1893 using the Town Truss.
[Forwarded by Gerald Arbour from Townships Heritage WebMagazine (URL undisclosed)]