April 1, 2005, Buskirk, NY - It has been a long struggle, but the bridge is open, says Dick Wilson, President of the New York State Covered Bridge Society.
Washington County Superintendent of Public Works Willy Grimmke announced that the renewed span had passed inspection and will be opened to vehicle and foot traffic April 1. However, some finishing work remains to be done.
South Cambridge and Buskirk are conveniently connected again and may once more share emergency services.
Buskirk Bridge NY-42-01
Photo by Dick Wilson
April 2005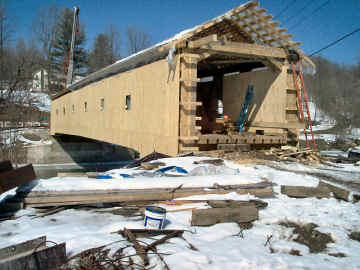 Buskirk Bridge NY-42-01
Photo by Dick Wilson
March 15, 2005
Buskirk Bridge NY-42-01
Photo by Dick Wilson
April 2005
Buskirk Bridge NY-42-01
Photo by Dick Wilson
March 15, 2005
Buskirk Bridge NY-42-01
Photo by Dick Wilson
March 15, 2005