Hyde Hall Covered Bridge Celebration
Glimmerglass State Park
Cooperstown, NY
Saturday, September 9, 2006
Welcome Reception – 8:00 am – Bath House
Please sign our Guest Book at the Welcome Reception area and pick up information you will need to make your visit enjoyable. Light refreshments will be available.
Guided Tour of Historic Hyde Hall Mansion – 9:00 am – Bath House
Come early as you certainly will not want to miss out on this event. Doug Kent, Hyde Hall Historian, will gather the group at the Welcome area and escort everyone to the Hyde Hall Mansion for a private tour. Due to the limited parking at the Mansion, please consider car pooling with others. In honor of the event, Hyde Hall officials are graciously offering a discounted tour rate of $5.00 per person. To assist us in accommodating everyone interested in participating, it would be helpful to reserve a space for the tour in advance. You may do so by calling 607-547-5098 or emailing: hydehall@wpe.com. Please let us know if you would like to be a part of this tour and reserve your space early, preferably by September 6th.
Commemorative Postcard Sales and Covered Bridge Display and Sales Table – 9:00 am – Noon – Bath House
A very special postcard has been issued in honor of this historic event. A representative from the Cooperstown Post Office will be in attendance to cancel your postcard with a special stamp and cancellation designed especially for this event. There will also be a table with covered bridge items for you to purchase. Inside the Beach Front Meeting Room you will find various displays regarding covered bridges and covered bridge items for your viewing.
Slide Show on New York's Covered Bridges – 10:30 am – Bath House
Take a virtual tour through a slide show presentation of New York State's Covered Bridges with Richard Wilson, President of the New York State Covered Bridge Society. You won't want to miss this exciting presentation.
Lunch – 11:30 am – 1:30 pm
Weather permitting, feel free to bring a picnic lunch and enjoy the beautiful picnic area of Glimmerglass State Park along with the spectacular view of Otsego Lake. There will also be a 10% discount lunch or dinner certificate available at the Welcome area for KCs Restaurant located just 4 miles from the park.
Celebration at the Hyde Hall Covered Bridge – 1:30 pm
The celebration will begin promptly at 1:30 pm at the bridge with many prominent speakers, leaders from various covered bridge societies and well-known historians. Please be aware that the covered bridge is a short walk (approximately 4/10 of a mile) from the parking area so you will want to bring along your walking shoes. Due to the layout of the grounds surrounding the covered bridge, please also bring your own, comfortable lawn chairs for seating during the celebration. In case of rain, the celebration will be held at the Bath House in the Lake Front Meeting Room.
Reception
The New York State Office of Parks, Recreation and Historic Preservation invites everyone to a reception in the Lake Front Meeting Room at the Bath House next to the parking lot immediately following the celebration at the Covered Bridge.
Helpful Information
Glimmerglass State Park
Upon entering the Park, please be sure to stop at the Gate House and mention you will be attending the Covered Bridge Celebration. The attendant on duty will provide you with information you will need for the days activities.
Parking
If you are handicapped and need special parking privileges, please be sure your handicapped tag is clearly visible. Park officials will direct you to the handicapped parking area. With the exception of handicapped parking, those attending the event will need to park in the main parking lot next to the Bath House. The morning activities will all take place at the Bath House next to the parking area. Please be aware that the covered bridge is a short walk (approximately 4/10 of a mile) from the parking area so you will want to bring along your walking shoes.
Overnight Accommodations
Glimmerglass Park is open to motor homes and camping but please note there are no hook ups available for motor homes. For more information on park fees, amenities and other camping facilities, contact the Parks office directly at: 607-547-8662.
There are forty-three hotels, motels and inns in the Cooperstown area offering a wide range of amenities. For your convenience, we have listed a few here. For a more comprehensive listing, please visit the following website: www.cooperstownchamber.org.
Baseball Town Motel (Cooperstown)
(607) 547-2161
Budget Inn (Oneonta)
(607) 432-5301
Best Western Inn & Suites (Cooperstown)
(607) 547-7100
Fountain View Motel (Richfield Springs)
(315) 858-1360
www.cooperstown.net/fountainview
KCs Corner Restaurant & Motel
(607) 264-3401
Stony Brook Motel (Richfield Springs)
(315) 858-9929 or 1-800-507-0098
The Meadowlark Inn (East Springfield)
(607) 264-3308
Mohican Motel (Cooperstown)
(607) 547-5101
For more information or questions concerning the event, please feel free to contact: Bob and Trish Kane, Program Chairs, at 607-674-9656 or by email: bobtrish68@frontiernet.net.
Directions to Glimmerglass State Park
From the West (Niagara Falls, Buffalo, Rochester, Utica):
Take the New York State Thruway (I-90) East to Exit 30 (Herkimer). Then take Rt. 28 South to Richfield Springs. Travel East on Route 20 to East Springfield. Take a right on County Rt. 31 (Rt. 31 is located directly across from KCs Restaurant and Motel) and travel south for 4 miles. Park entrance will be on the right.
From the East (Albany, New England):
Take the New York State Thruway (I-90) West to Exit 25A (Schnectady/Binghamton/I-88). Take I-88 to Exit 24 (Duanesburg). Travel West on Route 20 to East Springfield. Take a left on County Rt. 31 (Rt. 31 is located directly across from KCs Restaurant and Motel) and travel south for 4 miles. Park entrance will be on the right.
From the South (Binghamton, Pennsylvania):
Take I-88 East to Exit 17 (Rt. 28 to Colliersville/Cooperstown). Follow Rt. 28 North through Cooperstown (turns into Rt. 80 East and Chestnut St.). At main traffic light, turn right onto the main street and follow out of town until you come to County Rt. 31. Take a left on to Rt. 31 and follow for approximately 8 miles. Park entrance will be on the left.
---
Photo courtesy of Hyde Hall, Inc.
Hyde Hall Mansion
(Reprinted by permission of Hyde Hall, Inc.)
Hyde Hall was built for George Clarke, an Englishman whose great-grandfather and namesake was prominent in the government of New York Province prior to the American Revolution. As secretary and lieutenant governor for the British Crown in the early-to mid-1700s, the elder Clarke amassed an estate of 120,000 acres. That land, and the family's Jamaican sugar cane plantations, was the basis of the family fortune inherited by the younger George Clarke during the Revolution, and ultimately financed the construction of Hyde Hall. For the next 145 years, from 1818 until 1963, the mansion became the home of Clarke and generations of his descendants.
George Clarke began construction on Hyde Hall in 1817. He purchased the site, on a hillside terrace at the foot of Mount Wellington hosting an unrivaled 10-mile view down Otsego Lake – also known by the name "Glimmerglass," given by America's earliest great novelist, James Fenimore Cooper. Clarke's American wife, Anne, was the author's sister-in-law. Clarke selected upstate New York's ablest architect, Philip Hooker of Albany, to draw up his designs. Hooker's credits include the facade of Hamilton College Chapel, Albany Academy, Albany City Hall and the original New York State Capitol building.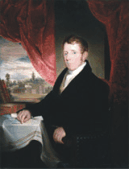 1829 portrait of George Clarke, the builder of Hyde Hall by Samuel F. B. Morse
Hyde Hall was Hooker's grandest domestic creation, and it remains an exceptional survivor of his work. A neo-Classical Doric pile refined to the barest essentials, its limestone walls reach 190 feet by 90 feet. Hyde Hall is a complex of four structures – some 50 rooms in all – enclosing an open, stone-paved courtyard 24 feet by 54 feet. This quadrangular plan, with its Private Wing of Soane-like spatial qualities, and a Public Wing whose two neo-Palladian rooms, 36 feet by 24 feet, soar to 18 foot ceilings, set Hyde apart from other American houses. Hyde was a showplace, built to impress. To this day, a visit is an exhilarating and rewarding experience.
George Clarke died in 1835 (a year before his friend Hooker), and construction ceased at Hyde Hall. Clarke left his mansion and most of his lands and fortune to his son George Clarke, Jr., a dashing figure in his younger day – an artist, musician and fashionable gambler. He was also a hops speculator, and when the hops market collapsed late in the 19th century, George Clarke, Jr. lost title to the mansion in a million-dollar personal bankruptcy that was reportedly the largest in the nation to that point.
It was only through the marriage of Clarke Jr.'s son that the mansion was kept in the family. The son, George Hyde Clarke, had married in to the Averell Carter family of Cooperstown and Cleveland. When the sheriff auctioned the estate to make good Clarke Jr.'s debts, George Hyde Clarke, financed by his wife and mother-in-law, bought back the mansion, nearly all of its contents, and 3,000 acres surrounding the house.
Hyde Hall continued as a family home for three further generations of Clarkes, until 1963. New York State acquired the building that year when it took over 600 of the mansion's surrounding acres for development into Glimmerglass State Park.
Time and almost impossible maintenance costs, made worse by an outbreak of dry rot while the house was closed during World War II, had taken their toll. When the State took over ownership, it had no plans, and no funds, for restoring the mansion, and the threat of demolition became very real. The Friends of Hyde Hall organization, led by Clarke descendants and preservationists, was incorporated in 1964 to save the house and to assist New York State in maintaining it for the public's use and enjoyment. It was immediately accepted to the National Register of Historic Places, and subsequently declared a National Historic Landmark, as well as a New York State Historic Site. In 1988, the Friends acquired a renewable, 30-year lease of the 15-acre Hyde Hall Historic Site, as well as full responsibility for its restoration and management. The organization was renamed Hyde Hall, Inc. in 1999, but its purpose remains unchanged.
For additional information on the Hyde Hall Mansion, visit their web site at: www.hydehall.org