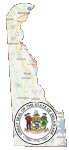 New Castle County, DE, February 17, 2009 - Travelers of I-95 from Pennsylvania into Delaware are treated to the sight of graffiti on nearly all prominent spaces, on commercial buildings, fences, overhead signs, and overpasses.
Graffiti taggers have attacked the Wooddale Covered Bridge [WGN DE-02-03] in Greenville three times since it reopened in December following a $3.4 million restoration, and defaced the Ashland Covered Bridge WGN DE-02-03]on Barley Mill Road in Yorklyn, rebuilt between December 2007 and May 2008. The taggers like to graffiti the new siding of the restored bridges, areas traditionally not painted.
Citizen volunteers of the Citizen Anti-Graffiti Brigade, organized in the fall of 2007, are helping DelDOT clean up, using supplies donated by the state and paint companies.
Last year, Delaware increased the penalties for painting graffiti and possessing the tools used to draw it. The penalties increase the offense from misdemeanor to felony if the damage exceeds $1,500, a minimum fine of $500, restitution for property damage and 200 hours of community service.
For the story go to: http://www.delawareonline.com/apps/pbcs.dll/article?AID=/200902150345/NEWS01/902150378.
[Our thanks to Trish Kane for sharing this story - Ed.]