The Franklin County Quilters Guild's annual raffle quilt, shown at left, features the "Covered Bridges of Franklin County" this year. The raffle is held annually in conjunction with the guild's quilt show in early April. This year's quilt is an original design by Denise Chase of Saint Albans, with original embroidery patterns for the bridges drawn by Sharon Perry of Montgomery.
Members of the Guild embroidered blocks of 12 covered bridges which are currently standing or formerly stood in Franklin County, Vermont. As Vermont's covered bridge capital, and as home to the Jewett brothers, local bridge builders in the late 1800s, it is not surprising to find 5 of the quilt's 12 blocks feature covered bridges from Montgomery. Two bridges from Enosburgh, two from Fairfax, and one each from Fairfield, Georgia and Swanton also adorn the on-point blocks.
The Guild will draw the winning raffle ticket for the "Covered Bridges of Franklin County" quilt at the conclusion of the its 15th annual quilt show on April 6th & 7th, 2013. The quilt show is held at City Hall, 100 North Main Street, in Saint Albans. Tickets are available at the show or in advance by contacting Ann Jacobs, 802-372-5611 or via email to franklincountyquilters@gmail.com
The Guild provides local charities and other organizations with handmade quilts. These quilts have been used for fund raising projects or simply to provide comfort and warmth to someone who might otherwise not get it. Over 1,500 quilts have been donated to over 20 charities and non-profits, as well as to local military Purple Heart recipients, or families of those recipients, and victims of disasters.
With just under 100 members, the Franklin County Quilters Guild has grown to be the largest quilt guild in Franklin County, Vermont. The guild was established in February 1991 to promote an interest in the art of quilting, and has met monthly ever since. Monthly meetings are held on the third Wednesdays, September through June, at the Church of the Rock, on Route 104 in Saint Albans, starting at 6:30 p.m. Visit the Guild's website for more information and see a close-up photograph of the raffle quilt at www.franklincountyquilters.org.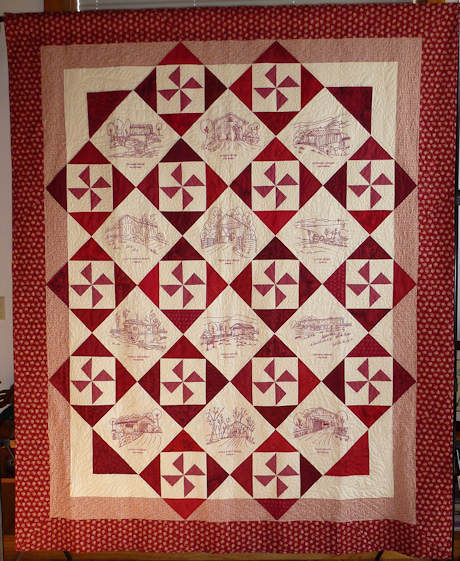 "Covered Bridges of Franklin County"
Photo courtesy of Scott Perry
Montgomery Center, Vt.