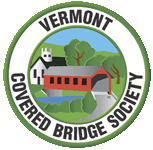 On Saturday, October 3, the Vermont Covered Bridge Society (VCBS) celebrates its 15th anniversary with an expanded fall meeting program at Smugglers Notch resort, five miles south of Jeffersonville on VT 108S. The public can attend both the business meeting at 10 AM and the keynote presentation by State Historic Preservation Officer Mrs. Laura Trieschman at 11 AM in the resort Meeting House without charge.
At noon, a buffet lunch is available to people who have registered for the 1 PM workshops for a $25 fee. Three breakout sessions will present an introduction to covered bridges, information on grassroots preservation groups, and using covered bridges as a tourist attraction. Following the workshops, two buses will tour the local historic covered bridges as guides describe the structures and history. Seats on the bus tour 2 to 4 PM are limited and a fee of $20 will be charged, so pre-registration is necessary.
The VCBS, a non-profit organization of volunteers, is dedicated to the preservation of our iconic historic covered bridges, promoting both the collection of information about them and education of the public. Experienced "bridgers" and those new to the subject will both find this meeting of interest. At the VCBS booth staffed by an experienced member, visitors can get more information, join the society on the spot, and purchase items related to covered bridges such as guidebooks.
Well-known local artist Eric Tobin, noted for his sensitive treatment of Vermont landscapes and many paintings of covered bridges, will exhibit some of his works for sale at the Meeting House.
For more information, visit www.vermontbridges.com or our Facebook page. To register, send an email to wmckone@stoweaccess.com for tickets to the lunch, workshops, and bus tour.