Replacement for Millikan/McMillan CB in Monroe County
Friday, March 22: On Maple Grove Road north of Bloomington in Monroe County, restored framework of the Cedar Ford Bridge was moved into place over Bean Blossom Creek near the site of the Millikan/McMillan CB (burned in 1976). Flooring and roof rafters were in this past week. ICBS's FACEBOOK page has some photos.
Nancy and I journeyed down for part of the day on the 22nd; snapshots below. While there, among others, we met Jeremy Boshears, an avid Monroe County historian. Before the action began, he wondered what ever happened to the iron Whipple truss span of the 3-span Gosport bridge whose 2 wooden spans burned in 1955. Do any of y'all know?.
We also met Geoff McKim, who had a camera drone. His really neat photos are in FACEBOOK group "Bloomington, IN - What's Going On"; choose 2019 as posted date. Frank McGill and Casey Winningham / Ken Bardonner also have posted several photos in FACEBOOK.
Bill Brandenburg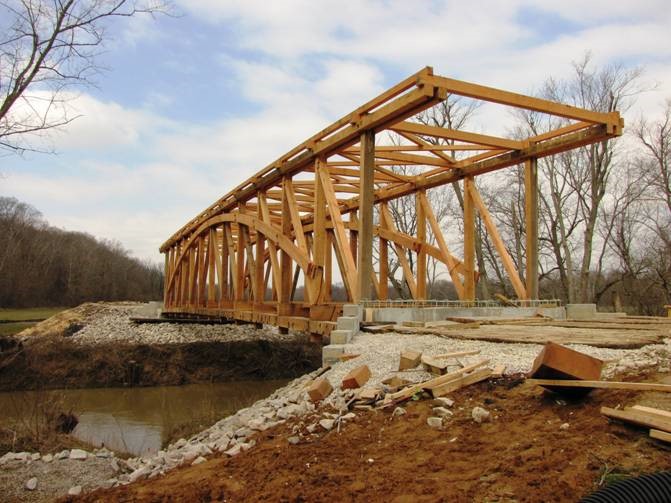 Kitty Henderson, Executive Director of the Historic Bridge Foundation, provided the following link for more information about the former Gosport Covered Bridge: Gosport Bridge - www.bridgehunter.com.
Editor's note: Thanks to James Crouse for bringing this to our attention.