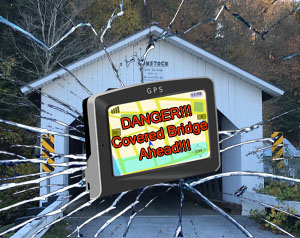 An article published in the July 19, 2019 edition of the Caledonian Record reports that the town of Lyndon has awarded a contract to repair the Millers Run Covered Bridge. The following is a summary of the details.
The repair contract has been given to Winterset, Inc. of Lyndonville, Vermont. Repairs are to begin shortly and are expected to be completed within two months. The bridge will reopen follwing completion of the project.
The cost of repairs are being paid for by Upper Valley Produce who owned the truck that caused the damage. Total repair costs are expected to exceed $50,000. Repairs will be made to braces, roof posts, and siding.
To read the full article from the Caledonian Record, Town Awards Millers Run Bridge Repair Contract, you will need to purchase a subscription.
Here is a link to the original article detailing the damage on May 16, 2019: Miller's Run Bridge Damaged by Oversized Truck