Chiselville Covered Bridge
Sunderland, VT
WGN Number: 45-02-05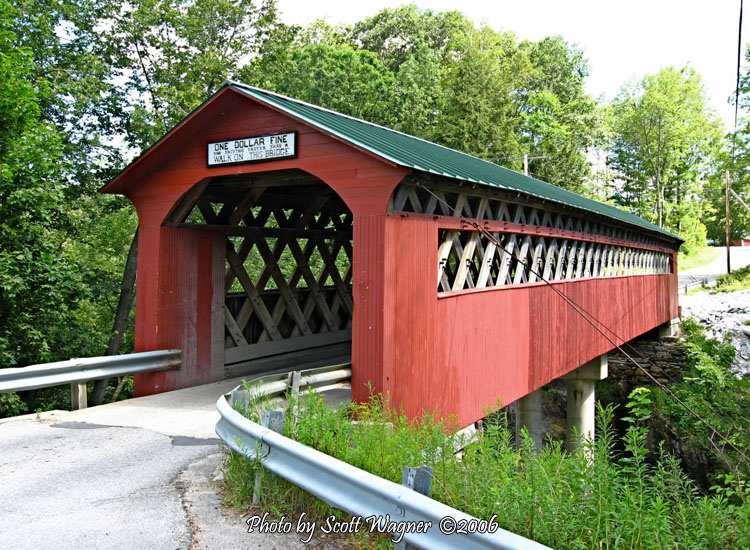 Standing forty feet above the stream bed, the Chiselville Bridge is well out of reach of the Roaring Branch. This span has been known to inspire vertigo.
Covered bridge author Ed Barna gives some historical background:
"How much did the covered bridge cost? In 1869, 710 pieces of cut timber, 1800 wooden pegs, 22 bunches of shingles, 140 wooden "keys" for braces, 250 pounds of nails, oil, Brandon red ocre, white lead, 60 loads of stone, blasting gunpowder, blasting damages, and Oatman's fee cost a total of $2307.31."
"In 1971 it was severely damaged when two loaded gravel trucks tried to cross at the same time. Supporting steel girders were added in 1973."
(Barna, E. (1996) Covered Bridges of Vermont. Woodstock, Vermont: The Countryman Press.)
The Covered Spans of Yesteryear website notes that "this bridge has a cement floor." During repairs in the early 70's, "center piers were added for support".
This bridge has also had a flash of fame. According to the website www.happyvermont.com, the Chiselville bridge is featured in a scene from the 1987 movie "Baby Boom" with Diane Keaton.
Our thanks to the Town of Sunderland for allowing the posting of the Vermont Covered Bridge Society Welcome patch. For more information about the Sunderland area visit their website at https://sunderlandvt.org/.
Chiselville Covered Bridge Vital Statistics
| | |
| --- | --- |
| Town: | Sunderland |
| Location: | Sunderland Hill Road |
| Crossing: | Roaring Branch of the Batten Kill |
| Date: | 1870 |
| Builder: | Daniel Oatman |
| Truss Type: | Town lattice |
| Truss Length: | 117 feet |
| Other Names: | High / Roaring Branch |