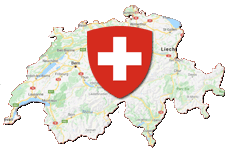 Hi Joe,
I thought that you would like these pictures of Swiss covered bridges taken by my friend, Gregor Wenda. He has given permission for you to publish them on your website, provided you give him credit for the pictures. I have attached his commentary from two separate messages.
Tom Keating
---
The first two scans are an historical picture of the Neubrücke by the woods of Bremgarten near Bern taken in 1913. The bridge crossing the river Aare is 91 meters long, 3.4 meters high, over 6 meters wide and said to have been built in 1466.
If you go to Switzerland, you must not miss the City of Luzern in the central part of the country. It has two of the world's most famous wooden covered bridges. The bigger one ("Kappellbrücke") was completely destroyed in a blaze in 1993 but later rebuilt in the original style.
The smaller sister ("Spreuerbrücke") is a few hundred meters down the river and also extremely nice. I visited Luzern last December (2004) and saw both bridges so I know that you got to go there! Attached are a few snapshots from my visit.
I also heard about a very nice 400 hundred old Swiss bridge called "Neubrücke" crossing the river Aare on the way from Bern to Bremgarten.
Gregor Wenda
An historical picture of the Neubrücke by the woods of Bremgarten near Bern taken in 1913
The Neubrücke [WGN S-06-52] Built in 1535 220 feet long to cross the River Aare in five kingpost spans
Neubrücke near Bern
---
Kapellbrücke [WGN S-11-01] built 1333 to cross Reus River, 656 feet long in 25 kingpost spans and one stringer span.
Photo by Gregor Wenda
Kapellbrücke in Luzern
Photo by Gregor Wenda
Kapellbrücke in Luzern
and Gregor Wenda
Kapellbrücke in Luzern
Photo by Gregor Wenda
Kapellbrücke inr Luzern
Photo by Gregor Wenda
---
Spreuerbrücke [WGN S-11-02] in Luzern built in 1568 to cross the Reuss River 262 feet long in four spans; one arch, one king post, and two queenpost.
Photo by Gregor Wenda
Spreuerbrücke in Luzern
Photo by Gregor Wenda
[The bridge descriptions in the captions are taken from the World Guide to Covered Bridges, 1989 edition -Ed.]