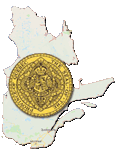 Huntington County, Quebec, December 18, 2009 - Because of the hard work begun 26 years ago by James Gavin, former mayor of Elgin, the "Wishing Bridge" is open to traffic.
In 1983 when an official with Transports Québec announced the Powerscourt Bridge would replaced with a cement structure, Gavin took up the fight to save the historic bridge, rallying the people and political leaders of the surrounding towns. After two years of endless letter writing, research and lobbying to save the bridge, the federal then the provincial governments declared Powerscourt Bridge a heritage site.
Now, 26 years later, the bridge is finally restored, except for a few finishing touches to be completed this spring. The work on the $1-million project had to wait till this June for provincial funding to come through.
Powerscourt Bridge was built in 1861 by local blacksmith Robert Graham for $1,675. The 180-foot bridge crosses the Chateaugay River in two spans, using the McCallum truss.
For the story and photo, go to: http://www.montrealgazette.com/business/Powerscourt+covered+bridge+community+hard+work+saved+Huntingdon+wishing+bridge/2359562/story.html
[Our thanks to Tom Keating for forwarding this story - Ed.]