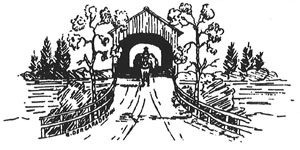 June 17, 2020 - The Sandown Public Library was host to a Special Virtual Program by Bill Caswell, president of the National Society for the Preservation of Covered Bridges. The program is scheduled for June 16 at 7:00PM.
This program has been recorded and is available to watch on YouTube: https://www.youtube.com/watch?v=Vgny0QoQZhQ&fbclid=IwAR01u6sP6jbbKZESjXPvogDCCMfK0T1FOxbUV6nJeg36_CGdKEYnZbxlTwk
Here is a link to the handout to accompany the talk: Covered Bridge Trivia.