Red Covered Bridge
Morristown, VT
WGN Number: 45-08-11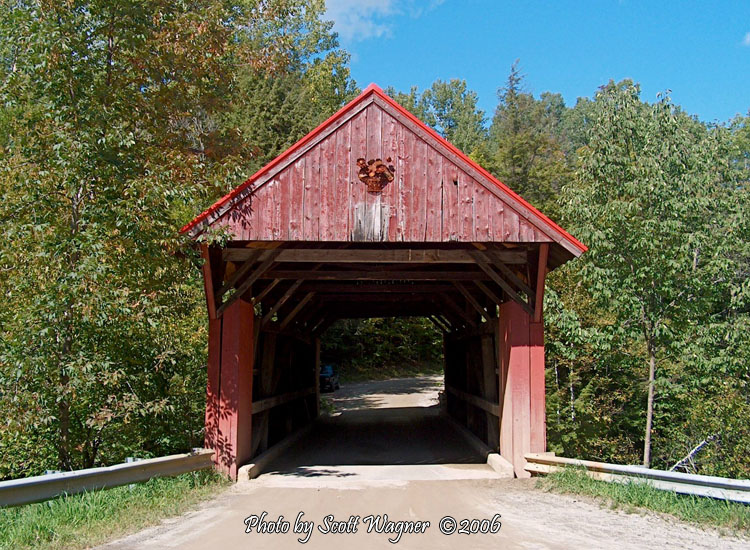 Morristown's Red Bridge crosses a scenic gorge carved into the bedrock by Sterling Brook. The span is best known for its unique truss invented by an unknown builder.
The Covered Spans of Yesteryear website provides the following historical notes: The bridge was "originally built at a cost of $523.14. The bridge uses a unique Kingpost with a superimposed Queenpost truss. After damage from a wind storm on October 16, 1897, thirty eight iron rods were added to each truss for added support at a cost of $210.75. The wooden deck was replaced with a concrete roadway and two steel I-beam stringers during rehabilitation in 1971. The bridge stands on natural bedrock abutments. The red metal roof was added in 2001 or 2002."
Our thanks to Morristown for allowing the posting of the Vermont Covered Bridge Society Welcome patch. For more information about the Morristown area visit their website at www.morristownvt.org.
Red Covered Bridge Vital Statistics
| | |
| --- | --- |
| Town: | Morristown |
| Location: | Cole Hill Road |
| Crossing: | Sterling Brook |
| Date: | 1896 |
| Builder: | Unknown |
| Truss Type: | Unique |
| Truss Length: | 64 feet |
| Other Names: | Sterling Brook/Chaffee |
| National Register of Historical Places Listing Date: | October 16, 1974 |
Credits: All pictures, information and descriptions are taken from Spanning Time Vermont's Covered Bridges by Joseph C. Nelson ©1997 and the World Guide to Covered Bridges - 2009 unless otherwise specified.