BUSKIRK, N.Y. - The Buskirk Covered Bridge was closed to traffic Wednesday afternoon, August 14 due to a "substantial new crack in one of the crossbeams," according to the Post-Star of Glens Falls, N.Y. The Bennington Banner of Bennington Vermont declares the closing was due to "a severe structural defect . . . . in one of the beams that holds up the bridge."
According to the news items, the problem was found when the bridge was undergoing one of its twice annual inspections. Washington County engineers made the decision to close the bridge.
The bridge connects Washington and Rensselaer Counties over the Hoosic River, the only crossing for five miles in each direction. The detour is a cause for concern for the Buskirk Fire Department and other emergency services. An estimated 700 cars each day will need to use the Johnson or the Eagle Bridge until the Buskirk span is returned to service.
Renovations at an estimated cost of $900,000, to be shared by the two counties, had been scheduled for 2003. Interim repairs are being planned.
The Buskirk Bridge (World Guide Numbers 32-42-02 and 32-58-04) is described in the newspaper articles as a 164-foot single span constructed in 1857 using the Howe Truss. The >World Guide To Covered Bridges published by the National Society for the Preservation of Covered Bridges lists the bridge as having been built in 1880.
Many thanks to Dick Wilson, President of the New York State Covered Bridge Society, for forwarding the referenced newspaper clippings.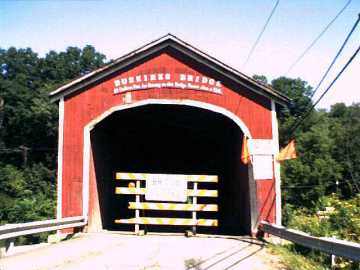 Buskirk Bridge
Photo by Dick Wilson
August 17, 2002