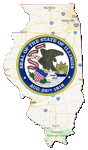 PRINCETON - Larry Vetter recalls his childhood days at the Captain Swift Bridge west of Princeton. "I would go swimming and fishing in Bureau Creek with other kids. We would walk or ride bikes to the creek," Vetter said. Now as Princeton Township road commissioner, he is involved in planning a replacement for the one-lane iron truss bridge. "Last year, we had to replace four steel beams under the bridge. They had rusted and fallen down," Vetter said. For longevity, maintenance cost savings and safety reasons, Vetter proposes a two-lane covered bridge. "I like the timber structures. The Red Covered Bridge has been here (over Bureau Creek north of Princeton) for 140 years," said Vetter. "Approximately a year ago, I thought the Captain Swift site would be a super location for another covered bridge."
Vetter, who was employed by Princeton Township for 20 years before becoming road commissioner in 1999, knows from experience the benefits of a covered bridge. "Because it has a roof, it will outlast a standard bridge. The roof keeps the snow and ice off the deck so we don't have to salt it," Vetter said. He also cited increased safety for motorists by having a two-lane bridge and eliminating the curve in 1600N Road. "Because the bridge is in the middle of a curve, the vision is not good for oncoming traffic," Vetter said. This problem will be solved by moving the road and bridge 80 feet to the north. "You will be able to see straight through the bridge," Vetter said.
Due to the condition of Captain Swift Bridge, a 27- ton weight limit has been imposed. No one seems to know the structure's history or how it became known as the Captain Swift Bridge, but Vetter thinks it was built in the early 1900s. Vetter said farmers also will benefit from a new bridge by being able to move heavier and larger equipment and loads. Farmer Charles Read of rural Princeton agrees. "Combines are too heavy and loaded trucks can't cross the bridge," Read said. He and Steve Barlow farm fields on both sides of Bureau Creek". "A new bridge will make it a lot better for us," Read said. He and Barlow currently have to "go all the way around" to reach fields on the east side of the creek.
The first step a township road commissioner must take to obtain a new bridge is to contact the county highway office. Vetter filed a petition for a new bridge because "the existing bridge is in need of replacement; for several reasons," according to county highway engineer Jeff Peacock. "Then we became aware of other counties that had built timber bridges," said Peacock. "Whiteside County built a two-lane covered bridge north of Morrison in 2001. The contractor was Ladd Construction of Ladd." Other covered bridges built in the past four years are located in Knox, Cumberland and Clark counties. Peacock also said the bridge deck will be supported by "a burr arch structure extending from abutment to abutment." The single-span bridge will be four-feet higher above the creek than the existing one in order to prevent debris pileup during flooding. If a standard concrete bridge is built, it will have piers which would add to the debris pileup problem, according to Peacock. He also emphasized the new bridge will support "all legal loads transported down the road."
In addition to replacing the bridge, Peacock cited the need for realigning the road and the intersection east of the bridge for safety reasons. "The Y intersection at Epperson Road will be replaced with a T intersection," Peacock explained. Read was glad to hear the plans include realigning the intersection. "Motorists respect the one lane bridge, but the real scary part is the intersection. It is really dangerous," Read said. "People don't yield. They don't look. There are a lot of close calls." The current yield signs will be replaced with a stop sign for eastbound traffic on l600N. Traffic on Epperson Road would not have to yield or stop. "We are hopeful to have the majority of the cost paid for with federal funds," said Peacock, who is applying for Major Bridge Program funding. "This project will not take away from other bridge needs of the county." The balance will come from state, county and township funds. The city also is being asked to help with the intersection improvement because Epperson Road is in the city limits. It is not known yet how much funding will be available or when the project will be started. No decision has been made on whether or not a covered bridge will be built. "A second covered bridge over Bureau Creek will be an asset for the county and hopefully a tourist attraction," Vetter said.
[This article was published December 6, 2003, by the NewsTribune, Lasalle, Ill. We thank David Silverberg for his permission to post his article. David Silverberg can be reached at ntprinceton@ivnet.com. Also, thanks to Bob and Trish Kane for sharing the article with me. - Ed.]