Sanderson Covered Bridge (Replacement)
Brandon, VT
WGN Number: 45-11-02#2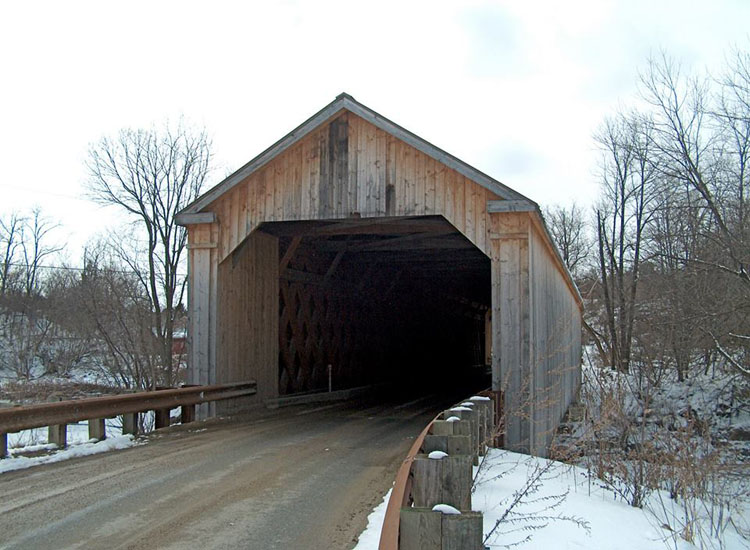 Some Brandon historians believe Nicholas Powers may have built the Sanderson Bridge. The gable treatment, however, is not typical of Powers' known work. Notice the partial cornice returns and the pilaster mouldings.
The Covered Spans of Yesteryear website provides some historical background: "Construction on the new bridge began on August 19, 2002 with the dismantling of original Sanderson Bridge. The project was completed July 31, 2003, at a cost of $830,000.00. The new bridge contains a few truss lattice members, chord members and roof beams salvaged from the original structure. It was named for the Sanderson family, who has owned the adjacent homestead since 1825."
The bridge, which had been closed since 1987, was rebuilt in 2002. Follow this link for the history of the bridge and rebuild process: Sanderson Bridge History and Rebuilding Accounts
Our thanks to the Town of Brandon for allowing the posting of the Vermont Covered Bridge Society Welcome patch. For more information about the Brandon area visit their website at www.townofbrandon.com.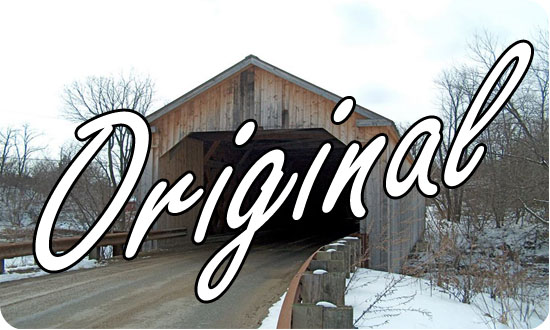 Sanderson Covered Bridge - Replacement Vital Statistics
| | |
| --- | --- |
| Town: | Brandon |
| Location: | Pearl Street |
| Crossing: | Otter Creek |
| Date: | 2003 |
| Builder: | Blow and Cote |
| Truss Type: | Town lattice |
| Truss Length: | 132 feet |
| Original Date: | c. 1838 |
| Builder: | Unknown |