Sanderson Covered Bridge (Original)
Brandon, VT
WGN Number: 45-11-02x
Some Brandon historians believe Nicholas Powers may have built the Sanderson Bridge. The gable treatment, however, is not typical of Powers' known work. Notice the partial cornice returns and the pilaster mouldings.
Covered Bridge author Ed Barna provides some fascinating background information about the Sanderson bridge. Ed notes that the bridge was featured in the July 1974 National Geographic magazine article "Vermont: A State of Mind and Mountains" by Ethel Starbird. In the 1990's, after the bridge was closed, the area was discovered to be "a major achaeological site" when Woodland indian remains were found. Read the full account in Ed's book, Covered Bridges of Vermont. (Barna, E. (1996) Covered Bridges of Vermont. Woodstock, Vermont: The Countryman Press.)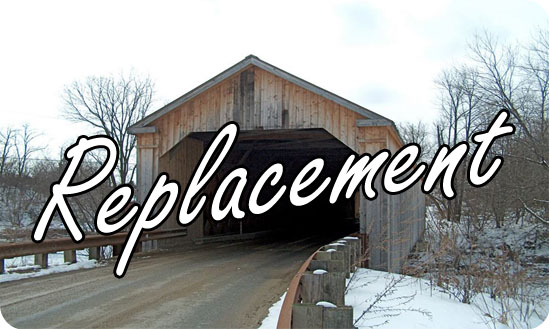 Sanderson Covered Bridge Vital Statistics
| | |
| --- | --- |
| Town: | Brandon |
| Location: | Pearl Street |
| Crossing: | Otter Creek |
| Date: | c. 1838 |
| Builder: | Unknown |
| Truss Type: | Town lattice |
| Truss Length: | 132 feet |
| National Register of Historical Places Listing Date: | June 13, 1974 |
Credits: All pictures, information and descriptions are taken from Spanning Time Vermont's Covered Bridges by Joseph C. Nelson ©1997 and the World Guide to Covered Bridges - 2009 unless otherwise specified.